Photo transfer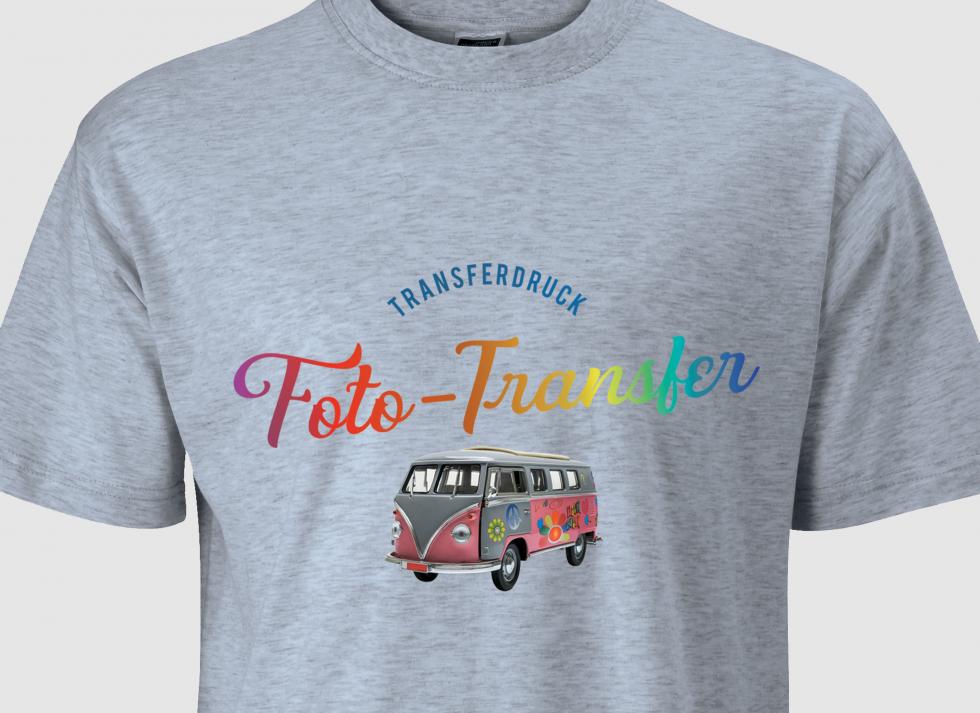 - photo realistic -

Photo-transfers are produced in 4-colour screen printing. In this way, photos can be transferred faithfully up to 60s grid on textiles. You will get an elastic and durable surface, perfect opacity and a soft touch. Photo-transfers have a high colour brilliance and reproduce photos and images true to the original.

Suitable for cotton and cotton mix.
Learn more
Waterbased transfer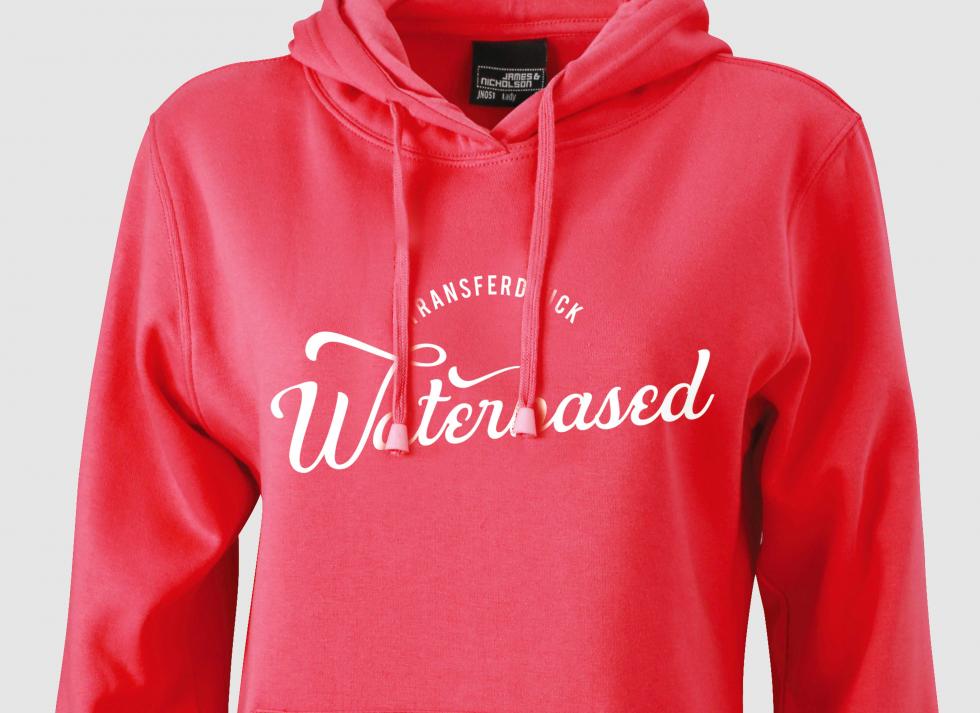 - high opacity -

The Waterbased transfer offers high elasticity and perfect opacity with a soft touch and a velvety surface. Due to its high degree of opacity, it is ideal for light and dark backgrounds. It can be applied gently on the textile- on cotton and cotton mix. It is durable and hard-wearing.

Waterbased transfers are suitable for all backgrounds (light, coloured or dark, cotton or cotton mix). They are available in black and white (special colours on request for a minimum quantity of 500 pcs.). On request they can be used for polyester.
Learn more
Transfers for ironing on yourself
-minimum quantity 100 pcs –

When ironing on transfers delivered by Gustav Daiber, the printing instructions have to be followed precisely. The printing result may depend greatly on the model and condition of the heat press and the spacial conditions. Please ensure first, if the fabric to be ironed is suitable for transfer print. Before starting the ironing process, it is necessary to do a test print and wash the textile. Subsequent complaints cannot be accepted.
Washing and Care Instructions
Legal notes

The washing and care instructions as shown on the label of the printed textile are to be followed. With a printed textile they are restricted as follows: Washing without bleaching agent, if possible inside out, at 40°C. A transfer can be ironed on carefully at a temperature of up to 120°C. A transfer-conserving method is covering the transfer with a damp cloth while ironing it or by ironing it inside out. Dry-cleaning is possible with several cleaning agents. It is advisable to carry out tests before. Avoid tumble-drying or tumble-dry the textile inside out at a low temperature.

Our application-specific consultation and product tests are carried out to the best of our knowledge, also in terms of the rights of third parties. Our recommendation is without engagement and does not exempt us from thoroughly testing the products delivered by us for the intended purposes. The application, use and processing of the products is beyond our control and your sole responsibility. To be on the safe side, test prints and wash tests should be carried out on the material to be printed on.
General terms and conditions
The general terms and conditions of Gustav Daiber GmbH are to be applied as well as the unified terms for textile decoration orders in the version of 1st July 2012, together with the additional terms, unless they contradict the general terms and conditions. You will find the unabridged version of our general terms and conditions here.

Flock transfers, reflective transfers, label transfers, sublimation transfers and others on request. Outsizes on request.
We will be glad to advise you personally if you need more colours or larger quantities. Just contact us at [email protected] or call us at 07432 7016-800 .
/en/order/reload-az/
/en/article/autocomplete/
/en/fulltextsearch/search/
/en/article/get-articleid-for-searchterm/
/en/article/get-farben-for-autocomplete/
/en/article/get-bestaende-for-autocomplete/
/en/article/get-the-look-color-change/
/en/article/popup/popupId/~popupId~/articleId/~articleId~/
/en/order/handle-basket-edit/akId/~akId~/
/en/article/get-articleurl-for-searchterm/
/en/remainingorder/add-customer/
/en/remainingorder/export/
/en/return/article-autocomplete/
/en/return/get-articleid-for-searchterm/
/en/return/get-farben-for-autocomplete/
/en/return/get-groessen-for-autocomplete/
/en/return/update-row/
/en/return-admin/update-received/
/en/return-admin/update-refund/
/en/return-admin/update-fee/
/en/return/update-comment/
/en/remainingorder/edit-remaining-order/
/en/async/getNumberOfWatchlistSkus?watchlistid=8
/en/~controller~/anonymize/id/~id~/
/en/article/last-seen/