ORGANIC COTTON COLLECTION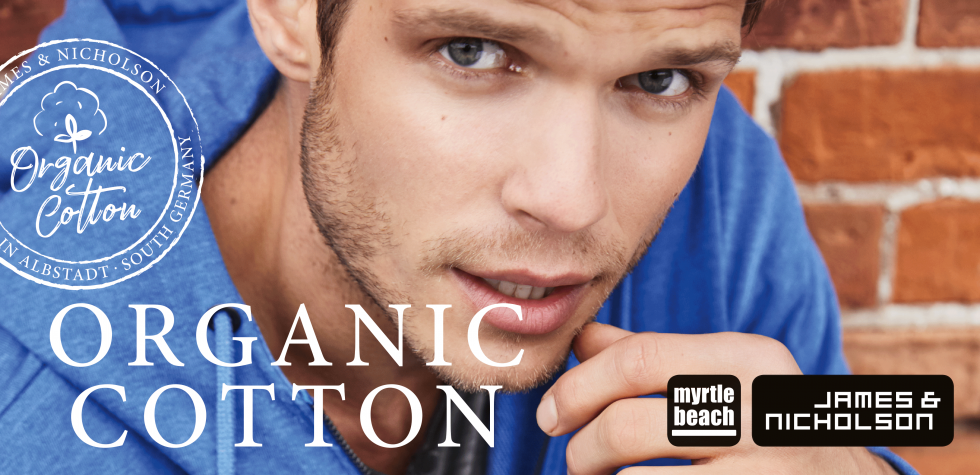 We love organic cotton!

The new organic cotton line by JAMES & NICHOLSON and myrtle beach impresses with high quality combined with modern cuts and tasteful details.

This naturalness is not only visible but also perceptible. Knowing that the components of the garment are made of sustainably grown cotton and that no genetically modified fibres are used conveys a completely new attitude towards life.

Fair fashion at moderate prices, that is what stimulates the two brands from the Swabian Alps to promote their new organic cotton line. In this case, fair is not only a temporary fad, but an integral part of the entire company philosophy.
Discover now!
Discover the ORGANIC COTTON COLLECTION:
/en/order/reload-az/
/en/article/autocomplete/
/en/article/get-articleid-for-searchterm/
/en/article/get-farben-for-autocomplete/
/en/article/get-bestaende-for-autocomplete/
/en/article/get-the-look-color-change/
/en/article/popup/popupId/~popupId~/articleId/~articleId~/
/en/order/handle-basket-edit/akId/~akId~/
/en/article/get-articleurl-for-searchterm/
/en/remainingorder/add-customer/
/en/remainingorder/export/
/en/return/article-autocomplete/
/en/return/get-articleid-for-searchterm/
/en/return/get-farben-for-autocomplete/
/en/return/get-groessen-for-autocomplete/
/en/return/update-row/
/en/return-admin/update-received/
/en/return-admin/update-refund/
/en/return-admin/update-fee/
/en/return/update-comment/
/en/remainingorder/edit-remaining-order/
/en/async/getNumberOfWatchlistSkus?watchlistid=3
/en/~controller~/anonymize/id/~id~/
/en/article/last-seen/